Wellness: Healthy Body, Healthy Mind
At Alternatives For Health Herbal Apothecary our goal is to help you attain and maintain your health and wellness goals. Our focus is on helping people take charge of and keep their bodies healthy through bodywork, herbal products, proper nutrition and detoxification.
Our products include:

Covid-19 Update: 

After much consideration, I have decided to be open ONLY to curbside pick-up or mail order. Most of you know my husband has kidney disease and I feel it is just too risky to him for me to stay open.  

I will be at the shop from 10:00 a.m. to around 3:00 p.m. each day to take orders and deliveries and package things for pick up or shipment. If you drive up and find this note on the door, you can call from your car and I will get things ready for you right away. We have a bin on the porch that is used for pick-up.

If you can't reach me on the shop phone 508-347-2111, you can call my cell 781-254-2025.

Thank you for your understanding in this difficult time.

~ Salli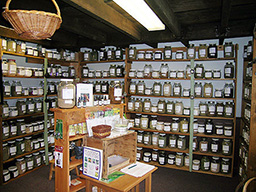 Bulk Herbs
Detoxification: The Path To Wellness
Each day, toxins seep into our bodies through the food we eat, the air we breathe, and the water we drink. Most of these toxins remain in the body for many years, stored in the fat cells that exist throughout the body. By lowering your toxic burden, many chronic health situations can be improved.
Whether your goal is stress, sleep, pain management or maintaining good health, Alternatives For Health Herbal Apothecary offers products and services that will get you, and keep you, on the path to wellness.

About Salli Greene...