Wellness: Healthy Body, Healthy Mind
At Alternatives For Health Herbal Apothecary our goal is to help you attain and maintain your health and wellness goals. Our focus is on helping people take charge of and keep their bodies healthy through bodywork, herbal products, proper nutrition and detoxification.
Our products include:
COVID-19 Protocols
The following are the guidelines that will be in place for the foreseeable future.
Masks must be worn at all times in the store.
Children must stay with their parent.
Hand sanitizer to be used upon entering.
Bulk products will be bagged by STAFF ONLY. We strongly encourage you to call ahead with any bulk items you will be wanting.
Social distancing applies (especially when in line at the counter).
No public restroom.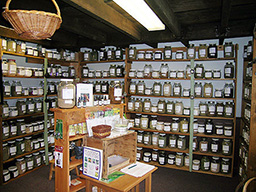 Bulk Herbs
Detoxification: The Path To Wellness
Each day, toxins seep into our bodies through the food we eat, the air we breathe, and the water we drink. Most of these toxins remain in the body for many years, stored in the fat cells that exist throughout the body. By lowering your toxic burden, many chronic health situations can be improved.
Whether your goal is stress, sleep, pain management or maintaining good health, Alternatives For Health Herbal Apothecary offers products and services that will get you, and keep you, on the path to wellness.

About Salli Greene...